Browse Documents (2 total)
From the publisher: Устод Фаттоҳ Маҷидӣ баробари шеьргӯӣ дар наср ҳам қувва меозмояд. Ҳикояву воқеаҳои хурд-хурд менависад. Ӯ дар ин китоби "Некӣ фаромӯш намешавад" асосан дидаву шунидаҳои худро ба тарзи ҳикоятҳо ба қалам додааст, ки аксарияти онҳо аҳамияти калони ахлоқӣ, тарбиявӣ ва ҳатто таърихӣ доранд.
Fattoh Majidi (1931-) grew up in Samarqand and studied agriculture, eventually defending a doctorate and being appointed professor. He was also a poet. This short pamphlent consists of three parts. The first recounts episodes from his own life or of people he was close to; the second recounts episodes from literary and artistic life. The third consists of fictional or fictionalized vignettes.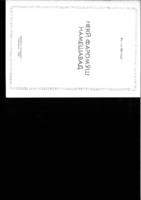 From the publisher: Зиндагии инсон миёни талхиву ширищо сипарй мешавад ва шояд мо кам ба он таваҷҷӯҳ дорем ва на ҳама вақт ба қадри он мерасем. Дар ишрищои зиндагӣ ёде аз талхщост ва дар талхиҳои он намакест аз ширищо. Лаҳзаҳое, ки зиндагии ман ва хонаводаам ҳамчун ашк дар сари мижгон меистод ва ҳар дам номулоиматщо ва нохушояндщое дар як сарзамини дигар бар сари бандаи гариб таҳдид дошт, ба тасвири талхиву ширищои рузгор ва кори баргардони ҳикматҳо ва латифаҳои беҳтарини дунё пардохтам ва он душворщоро бо хандаҳои гиряолуд ороставу пироста сохтам.


Mirboboi Mirrahim (Mirbobo MIrrahimov) is a translator and expert in pre-Islamic religions. During perestroika, he became famous for his writings on the Tajik language and was one of the first writers to publicly discuss the status of Samarqand and Bukhara. He also became one of the cofounders of Rastokhez, Tajikistan's first independent political organization. This volume of his memoirs, however, covers earlier years in the 1970s and 1980s and describes his experiences at university in Dushanbe, interactions with Tajik poets, and commentary on other writers' works.