Жизнь отданная народу
A life devoted to the people
Subject
Economic Development
National Question
Contributor
I.K. Kalandarov
Identifier
I.K. Kalandarov, Zhizn' otdannaia narodu (Dushanbe: Institut Politicheskih Issledovanii Kompartii Tadzhikistana, 2000).
Description
From the publisher: Автор этой историко-энциклопедической и автобиографической книги на основе документов, анализа материалов, воспоминаний саратников, ученников и воспитанников Джаббора Расулова, раскрывает его деятельность на посту первого секретаря ЦК Компартии Таджикистана и Председателя Совета Министров ТаджикскойССР. Показывает образ Джаббора Расулова, как стойкого, принципиального коммуниста, талантливого, умелого организатора и воспитателя масс, выдающегося партийного деятеля Таджикистана, человека, посвятившего полностью свою сознательную жизнь служению трудовому народу, развитию и преобразованию республики.
Description (English)
Jabbor Rasulov (1913-1982) was a Tajik party and government official, and first secretary of the Tajik SSR Communist Party from 1961 until his death in 1982. An agronomist by training, he worked in the Komsomol and was briefly (1960-61) the USSR's ambassador to Togo. This volume includes an essay by the historian and former party official Iskandar Kalandarov as well as shorter reminiscences from former colleagues and friends, including Sulton Mirzoshoev, Rustam Yusufbekov.
Citation
"Жизнь отданная народу,"
Russian Perspectives on Islam
, accessed December 8, 2023,
https://islamperspectives.org/rpi/items/show/24077
.
Document Images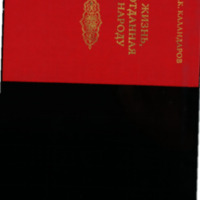 Transcription
Translation