Browse Documents (4 total)
Арзи дил
The Heart's Desire
From the publisher:
Sulton Mirzoshoev (1932-2016) was a Tajikistani politician and cultural official active in the Soviet and post-Soviet era. Originally from the Danghara region, he was educated at the teacher's college in Kulob and later at the Higher Party School in Moscow. This collection inculdes his account of the case against Tajikistan's First Secretary Tursun Uljaboev, which Mirzoshoev witnessed as a leader of the republic's Komsomol, and various episodes from the history of the republic's film industry, including an essay on the director Boris Kimegerov.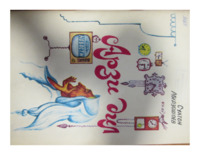 From the publisher: Публикуемые мемуары выдающегося государственного и общественного деятеля Таджикистана Назаршо Додхудоева (1915—2000) знакомят читателя с отдельными эпизодами и людьми, связанными с жизнью страны в наиболее интересный период новейшей истории Центральной Азии. Эти драгоценные свидетельства складываются в рассказ о судьбе паренька с далекого Памира, сумевшего благодаря несомненным качествам лидера, беззаветной любви к Родине и исключительному уважению к людям оказать влияние на развитие республики в середине XX столетия.
Nazarsho Dodhudoev (1915-2000) was a party and state official. Born in the Rushan district of what would later become the Gorno Badakshanskaia Avtonomnaia Oblast' (GBAO), he began his career as a teacher before joining the Komsomol and eventually the NKVD before embarking on a state and party career in Stalinabad (Dushanbe) and Moscow. He lost his position in the purge that followed the cotton scandal in Tajikistan in 1961. The memoir covers his childhood, education, the political effects of the purges, and his work under Bobojon Gafurov, Tursun Uljaboev, and others.
From the publisher: Дар китоб мақола, очерк ва дигар эҷодҳои солҳои гуногуни муаллиф ҷамьоварӣ шудаанд. Асарҳои саргузашт ва мутоибоз бори аввал чоп мешаванд.
Munzifa Gafforova (1924-2013) was a philosopher and educator who served as rector of the Pedagogical Institute in Dushanbe from 1977-1988. Gafforova studied chemistry at the Kirov Pedagogical Institute in Leninabad, and by 18 was already working as an instructor there. She became a Komsomol activist, and by 1947, at the age of 23, was named head of women's section of the Central Committee of the Communist Party of Tajikistan. Later she completed two graduate degrees, becoming a Doctor of Sciences in Philosophy. This volume includes her recollections of study, graduate work in Moscow, her reflections on gender (in)equality in the Soviet period and after, and her experience as rector.
From the publisher: «Такдир» хотира ва ёддоштҳои ходими маъруфи ҳизбиву ҷамиятӣ Камоли Суфиён буда, аз талху шириниҳои рӯзгор ва лаҳзаҳои хотирмону нотакрор ҳикоят мекунад. Роҳи паймуда ва қисмати қаҳрамони марказй ибратбахшу пандомӯз аст, махсусан, барои ҷавонон.
Kamol Sufiyon (Sufiev) 1931–? was a Communist Party official who rose to be Minister of Horticulture of the Tajik SSR and continued his political career after the Soviet collapse. This memoir covers his childhood near Nurek in the 1930s, his time in the Komsomol, the war years, the building of the Danghara canal in the post-war years, military service in Ashkhabad (Turkmenistan) and his Party career in a number of districts, including Ordzhonikidzeabad (Vahdat).