Browse Documents (2 total)
From the publisher: Ин китоб номаҳои то имрўз ба даст омадаи Абулќосим Лохутиро ба адибони тоҷик, ҳамдиёрон, дўстон, аҳли хонавода, хонандагон ва мухлисони ашъори ў дар бар кардааст. Номаҳо бо самимият, ҳарорати дил ва эҳтиром навишта шудаанд.
Abdulqosim Lahuti (1887-1957) was an Iranian/ Tajik writer. Forced to emigrate to the USSR for political reasons, he became a leading figure of Tajik letters and his works were translated into Russian and many other languages. This collection, assembled and annotated by Khursheda Otahonova, consists of letters written by Lahuti to writers in the USSR and abroad, including Sadriddin Ayni, Mirzo Tursunzoda, A. Dekhoti, and Romain Rolland.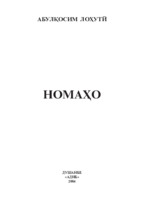 From the publisher: Ин китоб аз ду қисм иборат буда, қисми аввал «Дил мехоҳад, ки гӯяму гирям" ном дорад. Муаллиф дар он хотираҳои айёми тифлӣ ва ҷавснии худро рӯйи коғаз овардааст, ки ба воқеаҳои соли 1937 марбут аст. Селоби хунолудаи даврони сталинй оилаи ин зиёии тоҷикро низ ба гирдоби худ кашида буд. Муаллиф ҳодисаҳоеро ёдовар шудааст, ки падари ғамхору меҳрубон ва модари мискину бенавояш аз сар'гузаронидаанд..У дар симои модар тоқат, матонат, сидиу вафо ва покии дили як нафар зани ба фоҷиаи мудҳиш рӯбарӯшудаи тоҷикро таҷассум намудааст. Қисми дуюм аз хотираҳо ва очеркҳои илмию оммавӣ иборат буда, фаъолияти илмию адабии чеҳраҳои намоёни илму фарҳангро фаро гирифтаанд. Инҳо Мирзо Турсунзода, Носирҷон Маъсумй, Муҳаммад Осимӣ, Аҳрор Мухторов, Раҷаб Амонов ва дигарон мебошанд.
Khursheda Otakhonova was a Tajik literary historian, known in particular for her work on Abdulqassim Lahuti and Sadriddin Ayni. The first part of these memoirs, initially published in Sadoi Sharq,discusses the effect of Stalin's purges on Otakhonova's own family. Her father, Otahon Musohojaev, joined the Komsomol in 1919 and became a Party member in 1923; he was arrested in 1937. Hursheda and her mother sought shelter in Istarafshan; her father was released in 1944 but was not rehabilitated until 1957. Later chapters cover the author's experience with prominent intellectuals and literary figures, including Abduqodir Manyezov and Mirzo Tursonzade.