Browse Documents (3 total)
Арзи дил
The Heart's Desire
From the publisher:
Sulton Mirzoshoev (1932-2016) was a Tajikistani politician and cultural official active in the Soviet and post-Soviet era. Originally from the Danghara region, he was educated at the teacher's college in Kulob and later at the Higher Party School in Moscow. This collection inculdes his account of the case against Tajikistan's First Secretary Tursun Uljaboev, which Mirzoshoev witnessed as a leader of the republic's Komsomol, and various episodes from the history of the republic's film industry, including an essay on the director Boris Kimegerov.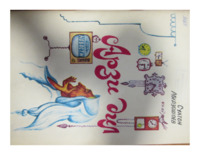 From the publisher: Ин маҷмӯа — ёдномэи шоирон, нависандагон ва дӯстони шодра- вон Маҳмуд Воҳидов буда, аз ҳаёт ва эҷодиёти ин ҳунарпешаи номии тоҷик ҳикоят мекунад.
Mahmud (Mahmudjon) Vahidov (1939-1977) was a Tajik film and stage actor, who also toured internationally. A graduate of GITIS in Moscow, his profesional home was the Lahuti theater in Dushanbe. This volume is a collection of Vahidov's own reflections, as well reminiscences from fellow actors and other artists and intellectuals, including Loik Sherali, the historian Nizom Nurjanov, the writer Fazluddin Muhamadiev, and the film director Bension Kimegerov.
From the publisher: Қудратуллоҳи Искидарғи дар иигоштаҳояш бо номи «Сарнавишт» аз дидаву шунидаҳояш бозгӯ шудааст, ки паҳлӯуои норӯшани ҳаёти солиёни гузаштаи рӯзгорашро рушанӣ меандозанд.
Qudratulloi Iskidarghi (Sharifi Jamil Qudrati), b. 1927, was a longtime employee of the Tajik SSR's Committee for Radio and Television, and worked closedly from 1960s-1980s with many television and movie directors. Originally from the small village of Dargh near Aini, his memoir comments on his work and origins.